Warning: Undefined variable $post_id in /customers/f/4/b/herrtorpsqvarn.se/httpd.www/wp-content/themes/PHPPROJECTJU-Herrtorps-Qvarn-95e2eb7/single.php on line 21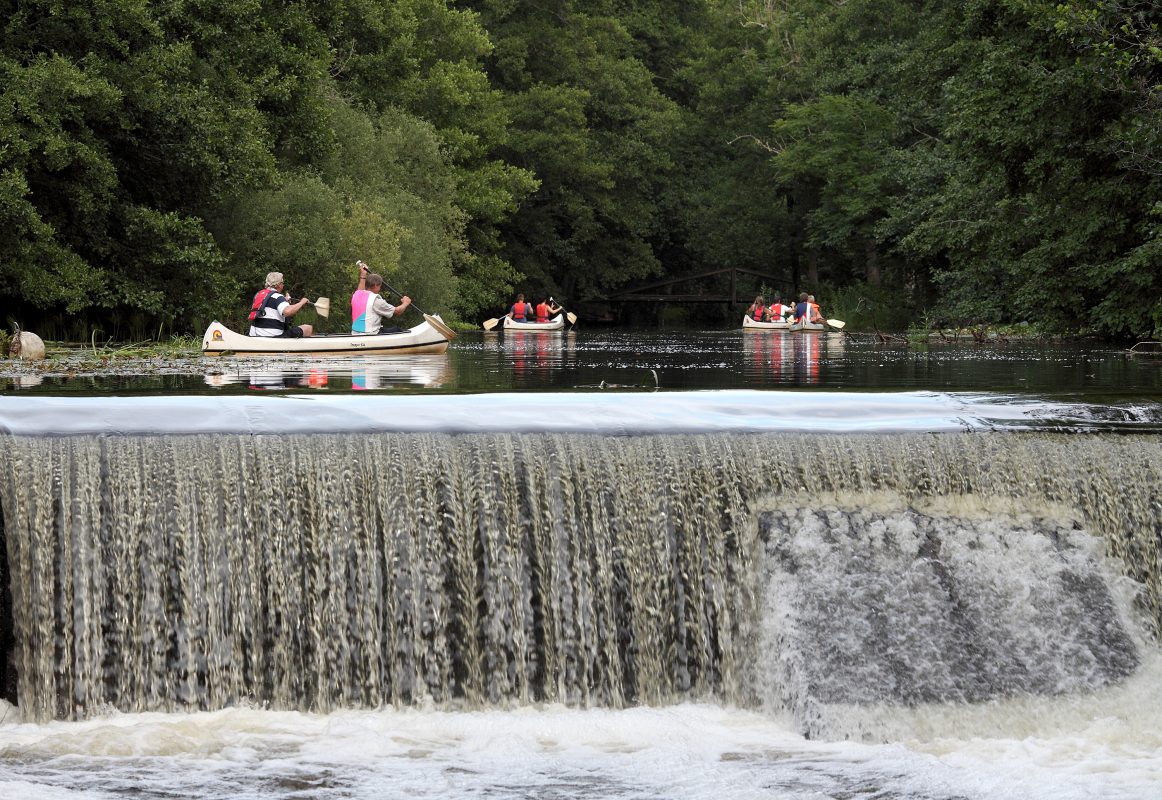 Canoeing
Hire a canoe and explore the Flian river independently. Canoeing is a fantastic way to get really close to nature, as you soundlessly glide along beneath the tree canopy in a way that is more in tune with nature, without leaving a mark.

6 km upstream from Herrtorps Qvarn is Lake Hornborgasjön. To travel there and back in a canoe takes around 5 hours of active paddling. The distance is suitable for anyone looking for a pleasant trip, including novice canoeists or families with children. No lifting required. Bird protection restrictions are in place between the 20/3 – 15/7. During this time, canoeing is not permitted beyond the barrier by the lake outlet.

(Please note! The trip described below is currently not recommended due to timber felling and the presence of fallen trees across the river.)
If you prefer a more exciting route, with faster running water, try the 5-kilometre long trip downriver to Svansvik. This part of the river runs faster, and it is not possible to paddle back against the stream. If required, we can arrange for your canoe to be transported back to Herrtorps Qvarn, alternatively you can arrange this yourselves. This route usually requires no more than 2 lifts, depending on the time of year. The route offers plenty of beautiful nature experiences, as the river meanders through a naturally preserved landscape. The trip involves approximately 1.5 hours of effective paddling.

FAQs:

How many people fit into one canoe?
The canoes are 5.20 m long, equipped with 2 seats and intended for 2 persons.
If 2 adults are travelling with a young child, we recommend placing the child on the bottom of the canoe. Please consider bringing something for the child to sit on. If the party includes more than one child, we recommend the use of 2 canoes, due to the risk of overloading the craft. This can cause it to become unstable and difficult to manoeuvre. An adult person can easily manage a canoe by themselves. More than 2 adults in the same canoe leads to overloading and a risk of capsizing

Are life-vests and waterproof containers included?
Canoeing vests are included in the rent, and designed for 40 kg and above. Canoeing vests are not the same as life jackets with collars, but a buoyancy aid. For children who weigh less than 40 kg we have a limited number of life jackets with collars. (We recommend that you bring your own life jackets for the children to ensure correct fit.) Waterproof containers are not included and must be provided by guests.

Are there places to picnic along the route?
There are no dedicated rest areas along Flian, but canoeists can usually moor along the shore and picnic on a coastal meadow. All piers along the river are private property, and we ask you to respect this. Show consideration both to the environment and to local landowners by bringing any rubbish back with you and discarding it in our waste sorting facility.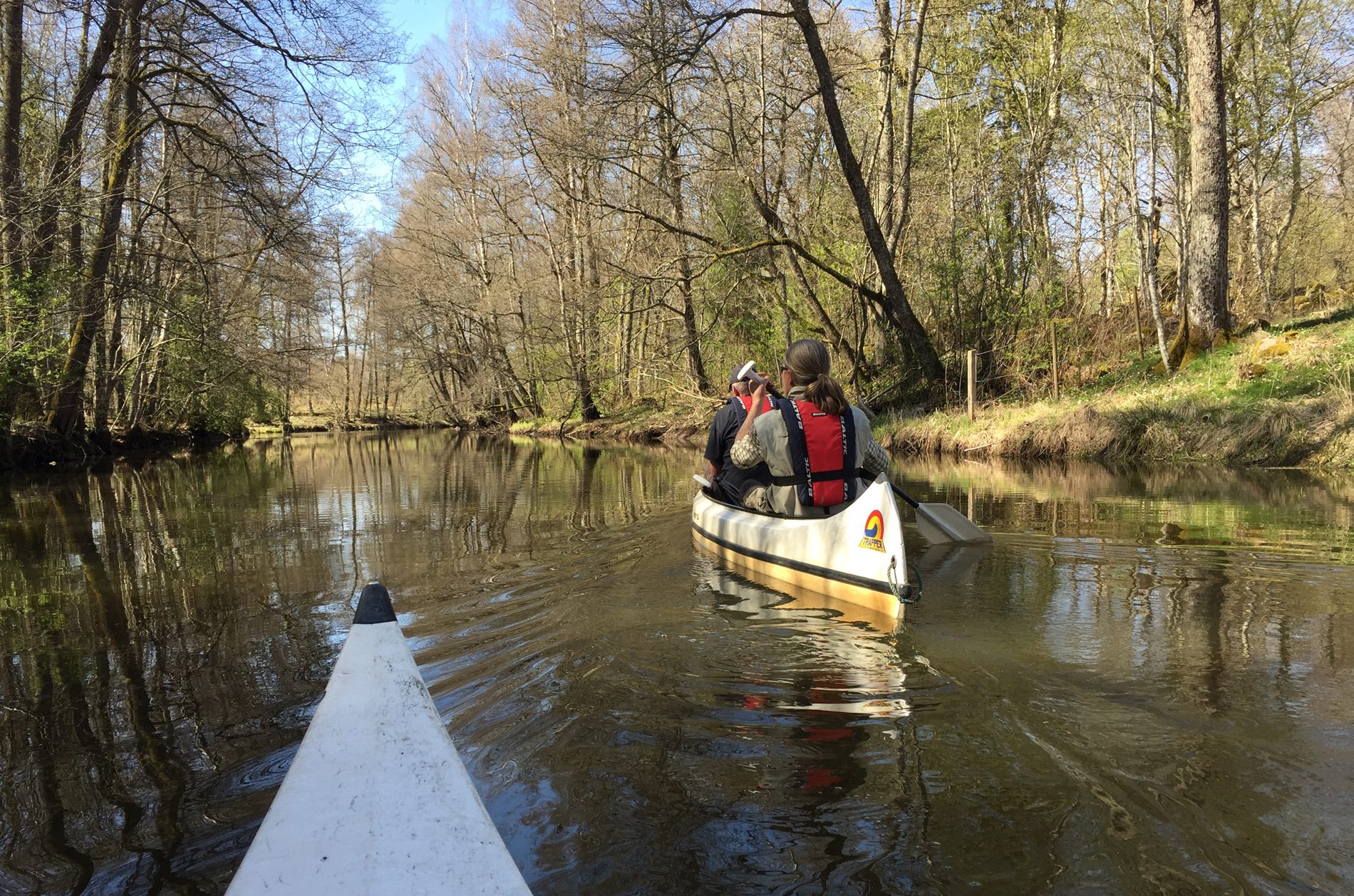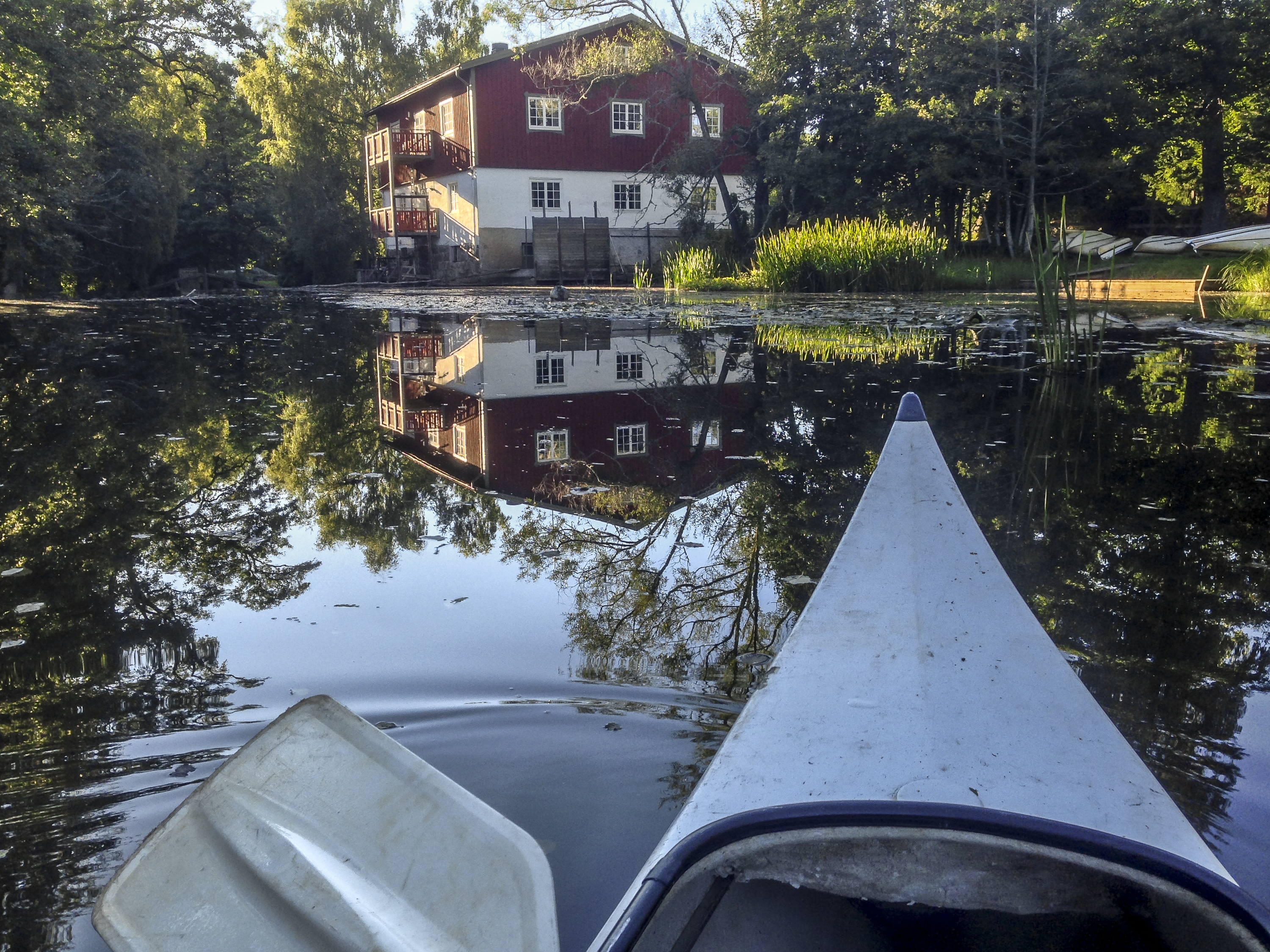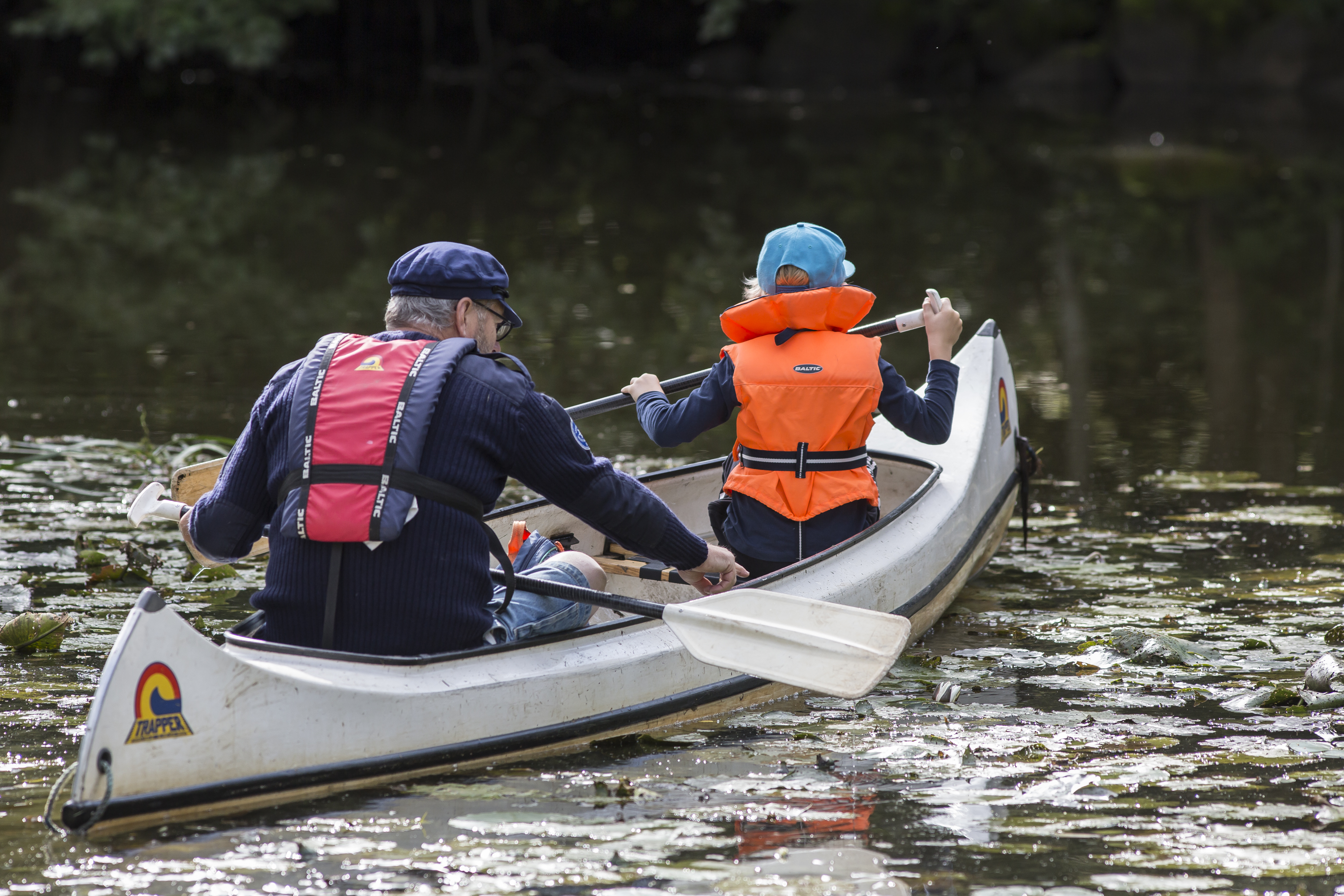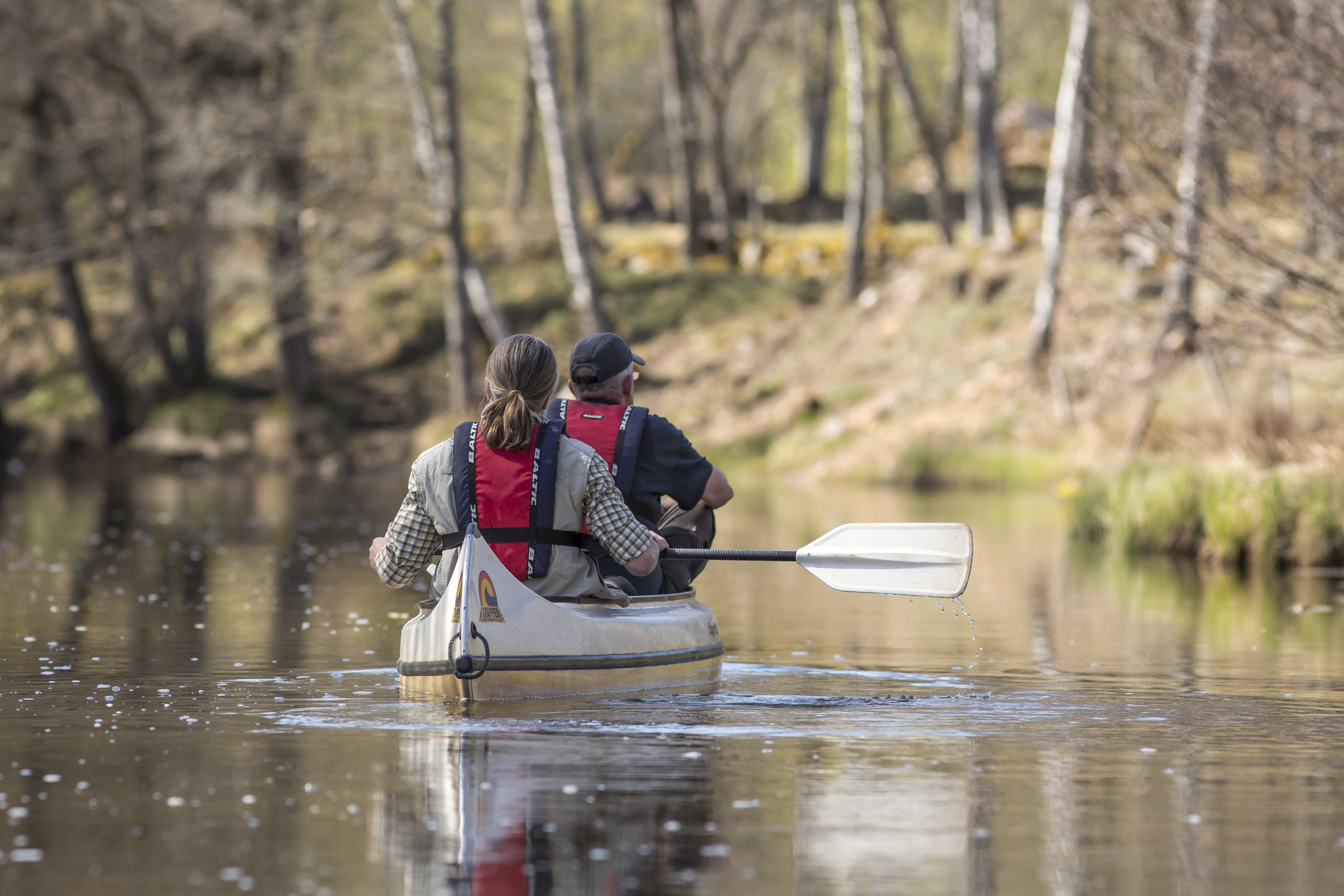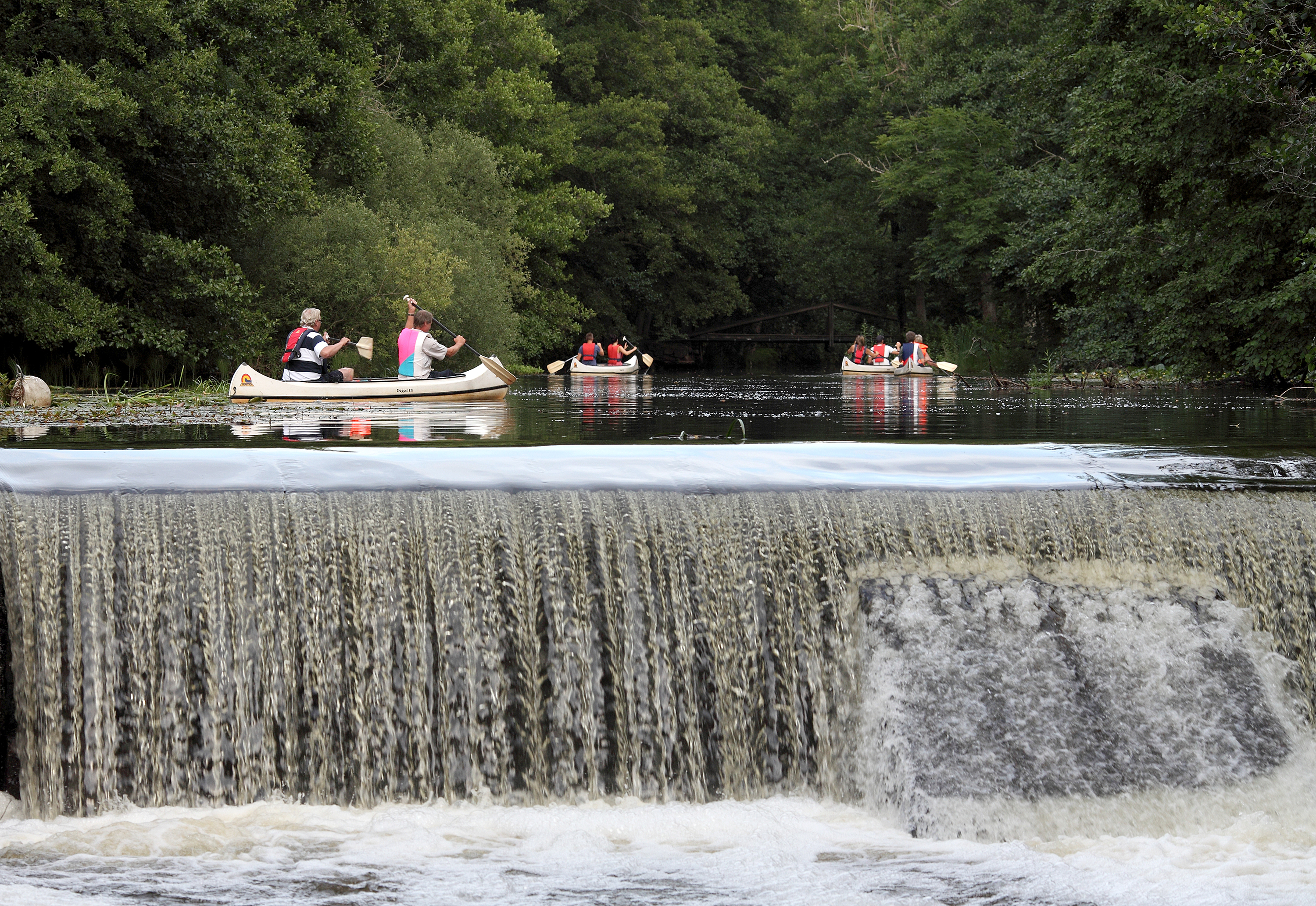 Paddling. Maria Johannessen
Rental prices per canoe
290 SEK/3-hours
400 SEK/day

Canoe transporting (pre-book)
Qvarnen-Hornborgasjön or
Qvarnen-Svansvik
300 SEK in start fee + 40 SEK/canoe